Fidelity Investments Bill Pay Upgrade
Role: Lead UX & UI Designer

Fidelity's Bill Pay upgrade project is a "tech debt" situation. Its user base tends to be affluent, tenured, and vocal. The UX Solution combined a redesign of an existing platform and rebuild of the customer's experience. It was also a learning experience in democratizing the UX Design Process.
The upgrade is currently live and continues to follow up with a respond and react periods and iterate with improvements through user testing.
︎Access the Desktop Anima/Sketch prototype here.
Please note this prototype is still un-branded for NDA purposes.
Desktop and Mobile Web View of the concept for Fidelity's Bill Pay responsive homepage.
The Problems

Project Problem
Fidelity Bill Pay was moving from a legacy platform to new technology under tight deadlines because the existing platform will no longer be supported. Its information architecture is limiting and its user experience is dated. With the upgrade, some existing features need to be removed and new improvements could be added, but new functionality is not within scope.

Legacy Platform Homepage & Enrollment Page
Modal Hell
In the current user experience 95% of all transactions and features in the platform were contained in pop up modals that were non-responsive and had outdated an outdated user interface,
Multiple Steps for simple actions
Simple actions such as making a payment, setting up an e-payment, adding a recurring payment, or managing a payee required the user take multiple steps in order to achieve these goals. Below is a current state flow analysis of the user's experience for Adding a Company as a Payee.
User Problem
Although Fidelity's Bill Pay customer base is smaller compared to other products; Its customers tend to be affluent, tenued, and vocal. The challenge is to introduce a design with a modern look that doesn't disrupt the day to day expectations of the Bill Pay customer.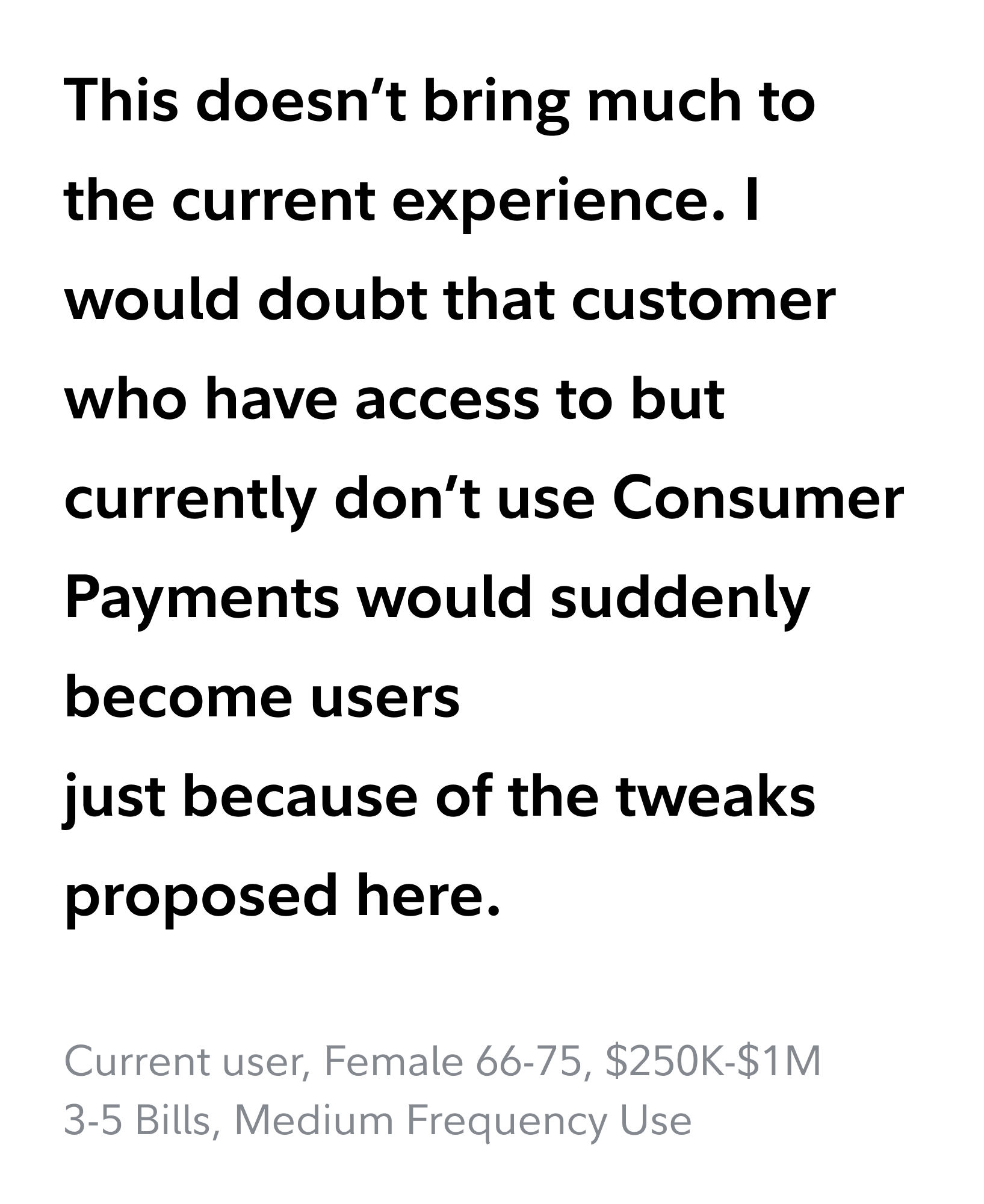 UX Solution & High Level Design Solutions

I started with analysis of the experience in order to find areas of improvement and establish the team's fluency with the platform and UX design process. I reorganized the Information Architecture into four service buckets with a redesign towards a mobile-first approach. I ran usability tests to lead the team's acceptance of the new UX designs and validated which direction would create a more efficient experience for the Bill Pay User. To meet deadline requirements I recommended bringing in a Junior UX Designer and established extensive cross-team collaboration.




︎ 1. I restructed the information architecture from two main pages (Manage Payments & Payment History) that held mutiples user actions to four buckets for user actions.

---
︎ 2.
Usability Testing of new Prototypes and of E-Payments validated several features to expand upon in the new UX.
Confirmations of actions are important.
Users want to see more than 30 days of history. (not shown here)
To address:
More advanced find feature for payment history search.
Concerned about losing pending payments or history when payee is deleted.

---
︎ 3. I added marketing language & branding to the enrollment experience, so that users understood what the Bill Pay platform had to offer.
---
︎ 4. Business Outcome: ePayments functionality created a stickiness in our users and helped retain them to the Bill Pay platform. Therefore, I surfaced ePayment functionality in order to push more enrollment in the future.



---
︎ 5
.
I brought the new platform into current UX Design trends by using mobile first solutions & establishing the platform's responsive design.
Created a sticky Total Bar that functioned like a "Shopping Cart" for payments.

Established new Information Architecture for better navigation and a streamlined experience per page across the platform.
Please note this prototype is still un-branded for NDA purposes.
Next Steps


The upgrade is currently live and continues to follow up with a respond and react periods throughout the calendar years.



Extra Artifacts

Below are images of my sketches.